Comments
Is Invisible Children/Kony 2012 Intentionally Drowning Out the LGBT Day of Silence?
Invisible Children has an extensive history of funding and promotion by anti-gay rights entities. In light of this, the competition of the Kony 2012 events with the Day of Silence on April 20 may be more than just a coincidence.
The annual Day of Silence,initiated in 1996, has been observed in schools across the nation in an effort to protest the bullying and harassment of gay and lesbian students. Since 2000, the annual event has been sponsored by the Gay, Lesbian, and Straight  Education Network (GLSEN), and since 2005 Religious Right organizations have sponsored very visible and widely-criticized efforts to counter this event.  This year the Day of Silence is competing with a different type of event - Invisible Children's week of activities closing with "Cover the Night," also on April 20. Invisible Children's Cover the Night is being held on Friday as the grand finale to several days of activism from April 16 - April 20.  Participants are requested to wear their Kony 2012 t-shirts from their Invisible Children action kit to school (and all day) on April 20.  Video with instructions for making a "Kony 2012" t-shirt by using a downloadable template and red spray paint, is provided on the Invisible Children website for those who did not purchase an action kit.  Participants will be busy on April 20, because they are also asked to do three hours of community service in their local area in order to build good will for the Kony 2012 effort.
Graphic below on left is the GLSEN "Day of Silence" t-shirt for April 20 and on right is the Kony 2012 t-shirt to be worn on  April 20.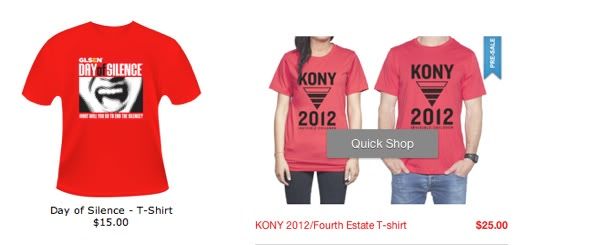 Last year Invisible Children held an event in public schools on April 25, 2011 to promote fundraising.  The goal was to encourage 25,000 supporters to donate $25 dollars each.   This event was held days after the GLBT-focused observance on April 15, 2011, but was also called the "Day of Silence."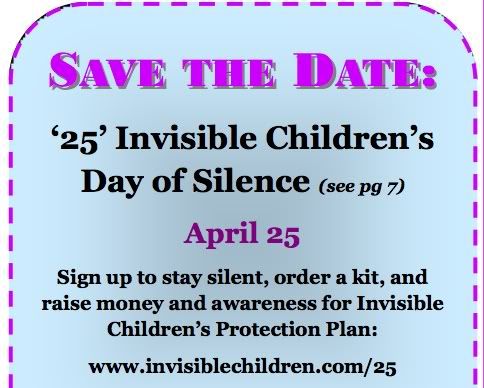 Participants were asked to be silent for 25 hours in this event that was advertised in advance. Dog tag style necklaces were marketed holding cards explaining Invisible Children's Day of Silence. The Invisible Children website for the event has been removed, but advertising in various school newsletters is still accessible on the internet. The 25 hours of silence was followed by "Breaking the Silence" events in cities across the nation.
This is yet another piece of a growing body of evidence that Invisible Children is a Trojan horse and a product of creative stealth evangelism.  
For the rest of the article, including new information on the Invisible Children's anti-gay rights and right-wing funders, link to www.talk2action.org/story/2012/4/19/114151/936 Also see other recent Talk2action.org articles on Invisible Children: Invisible Children: A Trojan Horse for the Religious Right, by Bill Berkowitz and Kony 2012, Invisible Children, and the Religious Right: The Evidence, by Bruce Wilson
Liked this article?

Join our email list
Stay up to date with the latest headlines via email