Comments
Falling Between the Cracks: Why Abortion Funds Exist and How You Can Help Them Help Women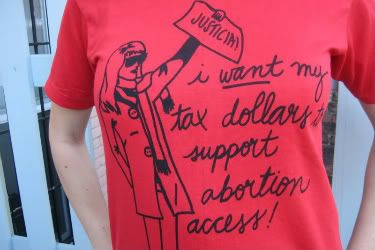 Written by Eesha Pandit and Steph Herold for
RH Reality Check
. This diary is cross-posted; commenters wishing to engage directly with the author should do so at the original post.
Melissa is 26 years old. She has a husband serving in the U.S. military overseas and a young daughter with numerous special health care needs. When they learned that she was pregnant, Melissa and her husband considered their limited resources and decided to seek an abortion. The ban on federal funding for abortion meant that this basic medical service was not covered. Melissa managed to raise half of the cost of her procedure by delaying payment of non-essential bills. The New York Abortion Access Fund (NYAAF) pledged the other half. Erika is a 19-year-old college student with an infant. When she became pregnant, her boyfriend had recently been laid off, leaving their family uninsured. She called NYAAF for help when her family refused to offer assistance. She'd saved $100 dollars from her student loan check. NYAAF pledged the remaining $250 and Erika received the abortion care she needed. Since 2001, the NYAAF has helped 764 women from 25 states, including Melissa and Erika
[1]
,  gain access to safe abortion care. In fact, the need for abortion funding is so great that over 100 grassroots abortion funds exist across the country, all members of the National Network of Abortion Funds (NNAF). NYAAF, a member of NNAF, is a volunteer-run, non-profit organization that provides financial assistance to low-income women in New York state who can't afford to pay for an abortion. This year, we're celebrating a decade of ensuring accessible, funded abortion care in New York State.
Click here to see full invitation to the 10th Anniversary Celebration of the NYAAF.
Many people wonder why New York State, where women can get public health insurance coverage for abortion services, needs an abortion fund. Abortion is prohibitively expensive for many women with the average cost ranging from about $500 at 10 weeks, to over $1,300 at 20 weeks gestation. Even in New York and the 16 other states that provide Medicaid coverage for abortion, thousands of low-income women fall between the cracks. Many women may be too poor to pay for abortion procedures, but they are uninsured or not poor enough to obtain public health insurance coverage like Medicaid.
Continue reading....
Liked this article?

Join our email list
Stay up to date with the latest headlines via email