Comments
Police Abuse of Sex Workers: A Global Reality, Widely Ignored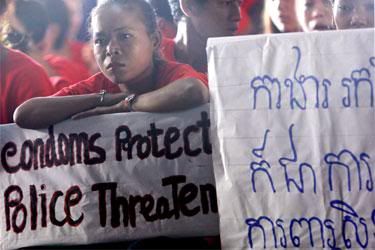 Written by Chi Mgbako forRH Reality Check. This diary is cross-posted; commenters wishing to engage directly with the author should do so at the original post.
December 17th is International Day to End Violence Against Sex Workers.
When we think of violence against sex workers, we conjure up images of dangerous clients and serial killers who target prostitutes.  Indeed, the origins of the 
International Day to End Violence against Sex Workers
, observed on December 17, lay in the decades-long serial murder of sex workers by the Green River Killer.  While these are heartbreakingly real forms of violence against sex workers, one area that receives scant public attention despite its entrenched global reality is police abuse of sex workers. The illegal status of sex work in most countries has not eradicated prostitution.  Instead, criminalization has increased sex workers' vulnerability to human rights abuses and created fertile ground for police exploitation, especially of street-based sex workers. For example, in South Africa, where sex work has been illegal since the former apartheid regime criminalized it in 1957, police officers often fine sex workers inordinate sums of money and pocket the cash, resulting in a pattern of economic extortion of sex workers by state agents.  For some sex workers, the cost of a police bribe to evade arrest can equal an entire night's worth of work.  In other instances, police have exhibited shameless levels of exploitation: In one reported example, a police officer in Cape Town demanded a sex worker give him money in lieu of arrest; when the sex worker told him she possessed only a meager 10 South African rand, or the equivalent of $1.25, the police officer even pocketed that pittance. In addition to economic abuse, police exploitation of sex workers manifests in other disturbing ways.
Continue reading....
Liked this article?

Join our email list
Stay up to date with the latest headlines via email